Visit our own website TAKE A SEAT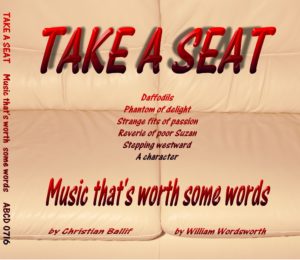 The story of this CD begins in the early 70′ when Christian inherited from her neighbour a book of english poems where he found Daffodils by William Wordsworth.
Touched by the beauty of these words he set the text to music and Daffodils was first played with his former group Catfood.
Then in 2013 he found other Wordsworth's poems and set them to music.
Halfway between a maxi EP and a mini album we have the pleasure to present you two different versions of the following titles:
Phantom of delight
Strange fits of passion
Daffodils
A character
Reverie of poor Suzan
Stepping westward
Excerpts from the CD:
Phantom of delight 1
Strange fits of passion 1
Daffodils 1
A character 1
Reverie of poor Suzan 1
Stepping westward 1
Phantom of delight 2
Strange fits of passion 2
Daffodils 2
A character 2
Reverie of poor Suzan 2
Stepping westward 2
The CD is out now and is sold only on this site (shipping is included) for the price of:
16 swiss francs (to Switzerland)
16 Euros or 15 UK £ (Europe)
18 $ (Rest of the world)

You can download our single from your favorite platform by entering "music that's worth some words".

Recorded at Studio 4ème Réverbère in Boussens, from 2013 to 2015
Mixed by Pierre Borel and Christian Ballif at studio Craving4Sound in Bavois
Mastering by Alain Ernst FreeSon, Villars sous Yens
Guitars: Parker P6, P10, P 24, Fly Mojo MIDI , Stol 12 strings, Parker Bass, Yamaha  fretless 5 strings
VST instruments: The Grand, Halion Symphony Orchestra, Neo Soul Keys. Drumcore.
Effects: Roland VG 8. Roland GR-S, Yamaha UD stomp